Testimonials - this page is under construction - more reviews to come.
I was pleasantly thrilled and surprised at the beautiful job Stacie Larue's company did on my kitchen this week! Not only we're they right on time in getting the job done, but they cleaned up beautifully and put everything back that they took off the walls.
Painting the kitchen was something I had planned to do for a long time, because it's a very old house and the paint was worn and dirty . With this new bright colour, the kitchen is fresher and more welcoming than before. Stacie even did my ceiling and borders around windows and door frames.
She is fast, professional and her pricing is good. I will highly recommend her services to my friends and plan to have her back to do my bathroom and hallway in the future.
Thanks again for all your help! My husband was thrilled with the job you did! A very satisfied customer,
Margaret Churchill, Ottawa, Ontario
My husband painted our kitchen banana yellow. After being surprised every morning, I needed to repaint it but had no idea which colour to choose. Thanks to Stacie, she picked a lovely soft mushroom. I now drink my morning coffee in peace. Kerry
"We are very happy with your service - thank you. We are happy to refer you to our friends and neighbours".
Fiona & Scott July 2011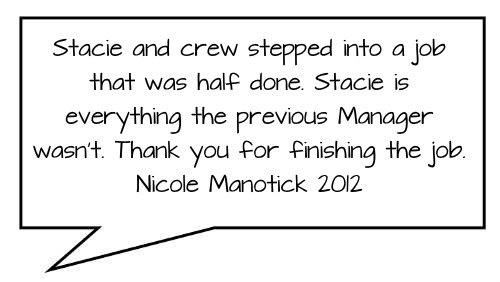 Many references available!